The sentence comparison allows you to select, display and compare the sentences which make up the Declaration. You can access a prototype version here.
Accessing the sentence comparison
The sentence comparison is accessed through the search page.
When you enter, you will see (1) an option to select a sentence number (2) a language option and (3) a tick-box menu allowing you to select a combination of manuscript- and version-texts.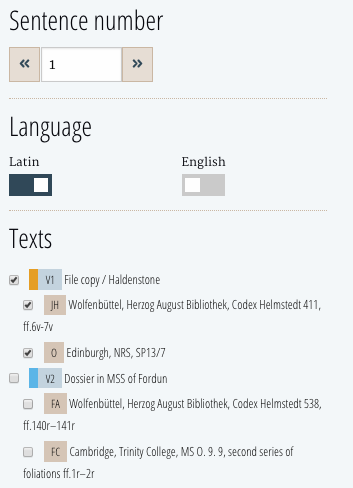 Using the sentence comparison
(1) Select the sentence you want to display (for example, the 'freedom' clause is sentence 15 in this edition).
(2) Select the language by clicking on the slide button so that your selected option is highlighted. It is not possible to display the Latin text and translation simultaneously. However, you can easily display your selected sentence and text in, e.g. translation, by clicking the 'slider' to 'English' at any point during your work.

(3) Select your text by clicking/unclicking the tick-boxes from the menu. Version 1 has automatically been selected. What you display is up to you. You can select manuscript-text from different versions (e.g. the ms-text of B and FC) or manuscript-text from the same version. Or you can display the texts from entire versions simply by selecting the version-text from the tick-box menu. Selecting the version-text automatically selects the manuscript-texts from that version. But if you just want to display the version-text without any of its child texts, just untick the box by the relevant manuscript text!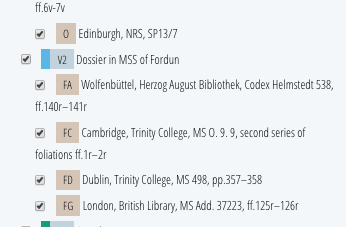 An important functionality
The sentence comparison is an extremely flexible tool, which allows you to move about from your initial selection. For example, if you have selected your sentence number, your language and your manuscript- and version-texts, and then decide you want to see the same -text selection but a different sentence or in a different language, simply click on the slider to change the language, and change the sentence number.
---
<<<< Dynamic Edition Home Page | <<< Back to start of Guide | << Back to start of Section | < Previous Page | Next Page >